Strange Bird Alternative Wine
Looking for something beyond Chardonnay & Shiraz?
Strange Bird is the quirky name given to the Granite Belt's self drive alternative wine trail.  A delicious change from the everyday – take the Granite Belt's Strange Bird Trail and discover a whole new world of wine.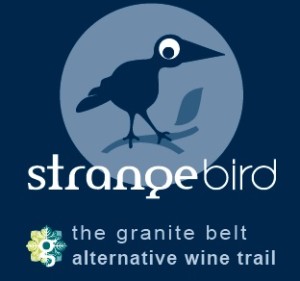 Pursuing the Strange Bird trail will give you a chance to dip into a bottle of Viognier or Mourvedre; learn how to pronounce Gewürztraminer or discuss the perfect food match for a bottle of Tempranillo.
To be considered alternative a variety must represent less than 1% of the total bearing vines in Australia as defined by Wine Australia.
The latest edition of the Strange Bird Alternative Wine Trail is updated with some classic favourites now making the cut. Some rare varieties, steeped in European history, are now included to make the trail more exciting than ever.
With over 40 varieties on the trail, wine and food lovers have a unique opportunity to pair food perfectly with an alternative wine variety. Gone are the days when Shiraz accompanied red meat and Chardonnay paired with seafood. The alternate varieties now available might encourage you to fine-tune your wine choice to create a more individual food and wine experience, creating the perfect balance of flavours.
Tagged the 'next generation of wine', alternative varietals have been popular in leading European wine regions for generations, and are emerging in popularity because of their ability to match perfectly with food.
On the Strange Bird wine trail you will not be short of choice. Elevate your taste, discover a sense of adventure and educate your palate. Follow the trail, take a detour, adopt a Strange Bird and take it home today…
Wine Wheel
Compare our Strange Birds on the wine wheel with more traditional varieties.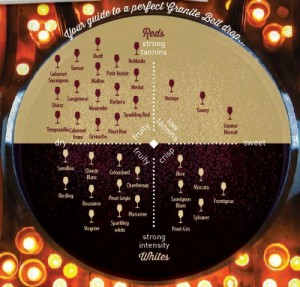 See Strange Bird on ABC Landline.